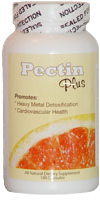 Pectin Plus® is a Unique Formulation Combining:
Citrus Pectin, Cilantro Extract and Odorless Garlic Extract.
Citrus Pectin is a plant fiber obtained from the rind and peel of citrus fruits such as lemons, grapefruits, oranges and tangerines. Structurally, pectin is classified as a water soluble, complex polysaccharide, rich in the sugar - galactose.
At a molecular level, pectin is a strong binding agent, which is why it is such a
strong supporter of

healthy detoxification

.
Citrus pectin is also very bioavailable and has a galactose rich make-up, which enable it to:
promote

Healthy cell growth

promote

Cardiovascular Health

promote a

Healthy Immune Response
Pectin Plus® supports Healthy Detoxification
In today's world, more than ever, we are exposed to a wide variety of toxins: They're in our air, food and water, in the workplace and at home. We even generate toxins within our own bodies. Our bodies are designed to be self-cleansing and self-healing. The internal detoxification process is an automatic daily procedure of the major detoxification organs. Toxins, however produce irritation and inflammation, adding to the burden of our digestive system. When our digestive system becomes overwhelmed, it is no longer able to adequately perform detoxification functions. This is a condition called "toxic overload".
Exposure to toxins results in an increased production of free radicals which over time damage or age our body tissues. Long term "toxic overload" may result in metabolic and genetic alternations that can affect cell growth, behavior and immune response. This is because the molecular structures of toxins are carcinogenic as they interact with human DNA. The World Health Organization has implicated environmental toxic chemicals in over 60 to 80 per cent of all cancer cases.
Scientists estimate that over 50 percent of U.S. residents have too much heavy metal in their bodies. These metals, which include lead, mercury, aluminum, cadmium and arsenic, are found in industrial byproducts as well as in tainted drinking water, pesticides and even things as common as dental fillings and cooking utensils. Once these chemicals are inside us, we can never fully eliminate them unless we undergo a detoxification process. As a result, most of us need some form of detoxification.
Pectin Plus® Supports Healthy Cholesterol
Citrus Pectin and Cardiovascular Health

The idea of using pectin to support healthy cholesterol levels is not new.

Several studies published in the 1990s (the Journal of Nutrition and the American Journal of Clinical Nutrition) have examined the effect pectin has on cholesterol levels. The results were very impressive.
It is well documented (in both animal and human studies) that pectin binds to cholesterol, enabling the cholesterol to be excreted from the body.
The effect that Citrus Pectin has on the way cholesterol forms plaque (the sticky substance which adheres to blood vessel walls, clogging and restricting blood flow) has also been studied, with very impressive results as well.

The findings, released in the Journal of Agricultural and Food Chemistry, a peer-reviewed publication of the American Chemical Society, show that compounds found in citrus pectin, called polymethoxylated flavones (PMFs) are supportive of healthy cholesterol.

The researcher said. No negative side effects were seen in the animals that were fed the compounds. More research is needed to explore the compound's mechanism of action on cholesterol metabolism. It is thought to work by inhibiting the synthesis of cholesterol and triglycerides inside the liver.

A long-term human study of the effect of PMFs on high LDL cholesterol is now in progress.
Pectin Plus® Promotes Healthy Cell Growth
Citrus Pectin and Cancer

Conventional cancer treatment involves surgery to remove primary tumors, followed by chemotherapy, radiation, or a combination of treatments designed to eradicate all remaining traces of cancer. This follow-up therapy is critical for addressing the biggest threat from cancer - the formation of secondary cancers, or metastases. Metastases are not new or different cancers, but rather new cancer colonies started from primary cancer cells that have migrated to new sites. Sites where metastases commonly occur include the bones, lungs, prostate, kidney, liver, thyroid and brain. Left unchecked, metastases can quickly overwhelm the body's defenses. In fact, it is metastases, not primary tumors that are responsible for most cancer deaths.
Scientists used to think cancer cells were individual actors, and that even a single cell escaping from the main tumor would likely start a new colony elsewhere in the body. But now we know that cancer growth is more of a "group activity". Just as a platoon of soldiers is more powerful than a single rifleman, cancer cells are more dangerous when they assemble and clump together. To do this, they must communicate with and bind to one another. That cell-to-cell interaction is made possible by special protein molecules called

galectins

that sit on the outer surfaces of the cancer cells.
After a cancer cell has broken free from its primary tumor (or is accidentally dislodged during surgery) it floats freely through the blood and lymph systems until it eventually becomes trapped in a small blood vessel (microcapillary). Firmly lodged in the microcapillary,

galectins

on the surface of the cancer cell start to bind to

galactose

receptors on endothelial cells (the cells that form the inside lining of blood vessels). After securely attaching to the endothelium, the cancer cells penetrate through and invade the blood vessel walls.
The final step in establishing a new tumor colony is the release of chemical signals that trigger new blood vessel growth (angiogenesis). The new blood vessels will supply the cancer cells with the nutrients they need to grow and thrive.
It is thought that the powerful attraction between galectins and galactose relates to how Citrus Pectin may help promote healthy cell growth.

Galectins and galactoses work much like a car's key and ignition. Only the correct key will fit into the ignition and activate the engine. Other keys may "fit", but they will not "fit" quite right - they will only jam the ignition and prevent it from working. Galactose rich Citrus Pectin has a strong binding affinity for galectins and being the "wrong key" has the ability to jam up the "molecular ignition", preventing the right key from getting in.
Of all diseases, Citrus Pectin has been studied most extensively for prostate cancer, one of the most common cancers in men.
Organic versus Wild Crafted
Many of our customers have asked why Pectin Plus® is not "certified organic"?
After all . . . It only makes sense, that if you are concerned with detoxification, the last thing in the world you want
is to ingest a product, which may introduce toxic pesticides into your body.
We have heard this feedback and quite frankly we agree, which is why we have upgraded Pectin Plus® . . .
and can now assure you that Pectin Plus® is 100% pesticide-free.
As we researched the feasibility of upgrading the ingredients of Pectin Plus® from "conventionally grown" to "certified organic", we found that there were not ANY sources for the "certified organic" raw materials we required.
We were however, able to find some providers which did have "ethically wild crafted" sources for the raw materials we required.
Pectin Plus® Supplement Facts
Citrus Pectin Research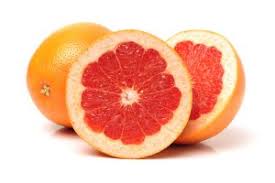 Citrus pectin is a complex polysaccharide (long-chain carbohydrate) obtained from the peel and pulp of citrus fruits such as lemons, grapefruits, oranges and tangerines. This long chain of sugars has numerous branches with important binding capabilities that are related to pectin's unique health supporting attributes.
Galactose, a natural sugar found on the branches of the pectin molecule, has an affinity for galectin-3 proteins on the cancer cell surface. This naturally occurring sugar is felt to play a role in the ability of Citrus Pectin to promote healthy cell growth.
Garlic Research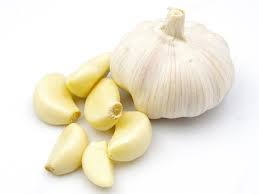 Garlic is one of the oldest known herbal plants, and it's been used through out history to help support good health. Sanskrit records reveal that such use dates back to India 5,000 years ago, while the Chinese have recognized garlic's support of good health for over 3,000 years. Even Louis Pasteur, who discovered penicillin, marveled at garlic's support of good health back in 1858.
Cilantro Research
Cilantro (the leaves of the Coriander plant) has value for supporting healthy detoxification that rivals its value as a spice. It's formal name is Coriandrum sativum and is sometimes called Chinese parsley because it bears a strong resemblance to and belongs to the same plant family as Italian flat leaf parsley. Working together, U.S. and Mexican researchers isolated a component in cilantro which is called dodecenal.
In addition to dodecenal, eight other important compounds were isolated from fresh coriander. Researchers are investigating whether dodecenal might be developed as a tasteless food additive to prevent foodborne illness.
Pectin Plus® FAQ
Are there any contra-indications for using Pectin Plus®?
Yes . . . As Pectin Plus® DOES contain garlic extract, it IS contraindicate for those on blood thinning medication such as COUMADIN.
What if I take aspirin to thin my blood?
Aspirin is NOT contra-indicated with Pectin Plus® .
If doctor has told me not to eat grapefruit or drink grapefruit juice, can I use Pectin Plus®?
Yes you can. . . Pectin Plus® is made from the rind of grapefruit and NOT the actual pulp or juice. Grapefruit juice is known to inhibit an enzyme system in the small intestines that metabolizes some drugs prior to absorption. The chemical compound in grapefruit that is believed to be responsible for the inhibition is 6'7'-dihydroxybergamottin. Pectin is NOT known to inhibit enzyme systems.
Is Pectin Plus® safe for diabetics to use?
When introducing any new food product, diabetics should be cautious. Therefore, we recommend closely monitoring blood sugar levels under your doctor's supervision while you begin to use this product, as you would when introducing any item in your diet.
Is Pectin Plus® safe for pregnant or breast feeding women to use?
Pectin Plus® is NOT known to have any adverse effects on pregnancy or breast fed babies, however . . . It is always advisable to consult with your physician before taking any supplements if your are pregnant or breast feeding.
Are there any side effects to using Pectin Plus® ?
Some people have reported very mild flu-like symptoms when first supporting healthy detoxification. In general Pectin Plus® is very well tolerated by most people.
How long should Pectin Plus® be used for?
We encounter toxins on a daily basis. Therefore we recommend taking Pectin Plus® every day
How long can Pectin Plus® be safely used?
Consumption can continue for as long as desired.
Pectin Plus®
Supports Healthy Detoxification
Supports Healthy Cholesterol
Supports Cardiovascular Health

Promotes Healthy Blood Pressure
Promotes Healthy Cell Growth
Promotes Healthy Immune Response
Contains:
180 capsules per bottle
(30 day supply)
Citrus Pectin
Garlic Extract (odorless)
Cilantro Extract
Suggested use:
3 capsules twice per day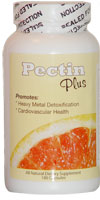 2 bottles

$28.95 each

$57.90
3 bottles

$27.95 each

$83.85
6 bottles

$26.95 each

$161.70
12 bottles

$24.95 each

$299.40
Pectin Plus
®

Supplement Facts
Serving Size: 3 Capsules
Capsules per container: 180
Servings per container: 60
Amount per Serving
% Daily Value
Citrus Pectin
1,500 mg
*
Garlic Extract (oderless)


Ethically "Wild Crafted"
Standardized to provide 2% Allicin potential

300 mg
*
Cilantro Extract (20:1)
75 mg
*
*Daily value not established.
Other ingredients: 100% Vegetable capsule, L-Leucine, Syloid®, Rice Flour and Water
Directions:
Take three capsule in the morning and three in the evening.
Cholesterol Metabolizer®
Promotes Healthy Cholesterol
Promotes Healthy Immune Response
Contains:
60 capsules per bottle
Beta Sitosterol
Beta Glucan
Cromax®
Soy Isoflavones
Suggested use:
1 capsule twice per day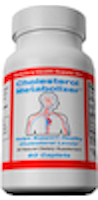 2 bottles

$23.95 each

$47.90
3 bottles

$22.95 each

$68.85
6 bottles

$21.95 each

$131.70
12 bottles

$19.95 each

$239.40
Cholesterol Metabolizer
®

Supplement Facts
Serving Size: 1 Capsule
Capsules per container: 60
Servings per container: 60
Amount per Serving
% Daily Value
Beta Sitosterol Complex
300 mg
*
Beta 1,3 Glucan

(as Polysaccharide from Avena sativa)

120 mg
*
Soy Isoflavones

(Standardized to contain 40% Isoflavones)

50 mg
*
Chromium Picolinate

(as Chromax®)

100 mcg
83%
*Daily value not established.
Other ingredients: Rice Flour, Vegetarian Capsule, L-Leucine, Syloid&reg and Water
Directions:
Take one capsule in the morning and one in the evening (preferably with a meal).
Other Products available from: NHS Global Distributors LLC
An immune system support formula based on Beta Glutan, which is unsurpassed in it's ability to help support a healthy immune response.
read more